Three Generations of Roofers Since 1932.
Associate Roofing, Inc. of New England, has been serving the needs of commercial roofing and residential roofing clients alike since 1932. For over half a century Associate Roofing has exemplified the finest tradition of American family business – a roofing contractor who can always be counted on in terms of product knowledge, craftsmanship, efficiency and follow through. For three generations the Lynch family has believed in educating all customers on roof products and procedural options to ensure a satisfied customer and a job well done.
Welcome to Associate Roofing
The words experience, reliability, commitment and teamwork are not just buzzwords. Read what our commercial roof and residential roof customers say about Associate Roofing and you'll see that it is our customers who tell us these words best describe what Associate Roofing stands for.
Associate Roofing offers professional power washing, exterior cleaning and restoration services. Power washing, also known as pressure washing involves using a high volume of water to clean dirt and residue from the exterior of your home or business. We use biodegradable cleansers to safely remove debris from your home's siding and hinder future debris build up. Not power washing your home regularly allows for mold, mildew and dirt to become embedded in your home's siding. Learn More …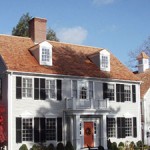 Associate Roofing is a  residential roofing company in the Boston and surrounding suburban areas including Boston's South Shore, Boston's Metro West to Martha's Vineyard. Mike Lynch is a third generation roofer and current owner of Associate Roofing. He stands by his grandfather's tradition of honest hard work and commitment to quality craftsmanship to build roofs that will last. We are a licensed and insured Roofer and General Contractor.  Learn More…
Peace of Mind
Rest assured you are hiring one of the best roofing companies in the business.
Associate Roofing staff are certified & trained an all aspects of your roofing project.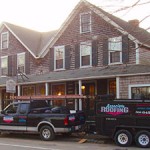 Associate Roofing is an experienced commercial roofer. Our professional roofing experience ensures that you will get the quality roof your commercial business requires to last through all of New England's weather extremes. When it comes to choosing a commercial roofing contractor, it's important to choose one with experience and the knowledge to do the job right and stands behind their work for years to come. You will find that with Associate Roofing.  Learn More …
Insurance Claims
Associate Roofing will assist you in working with your insurance company.
Licensed, Bonded and Insured
All Associate Roofing staff are covered for your protection.