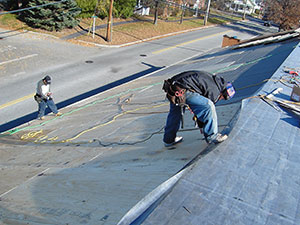 Associate Roofing is a Milton commercial roofer. We are a commercial contractor who can be counted on in terms of product knowledge, craftsmanship, efficiency and follow through. Therefore, we stand behind our work and use only the highest quality materials to ensure a roof to last for years to come.
Since every roof is different there is not one generic price. We won't quote a price on the spot. It's not fair to you and it's not fair to us.
First of all, we will create an estimate based on the information collected and then present you with as many options that make sense for your business roof. By educating our customers on all the roofing products available, we will help guide you toward the best result for your roof. Furthermore, we have the experience and knowledge to install a wide variety of roofing types for your commercial roof.
Roofing Credentials
Associate Roofing is MA Licensed Contractor
Bonded and Fully Insured Roofing Contractor
GAF Certified in commercial roofing