Associate Roofing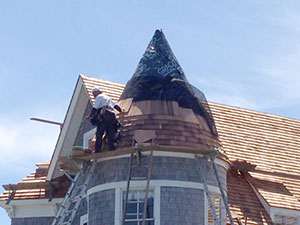 Our Roofing Company is an experienced and professional roofing company. Since 1932, we have helped homeowners and business owners with their roofing needs. For three generations, we have repaired, installed and maintained commercial and residential roofs. As a result, our years of experience in the roofing industry gives us the expertise to construct a solid, leak proof roof.
First of all, we realize replacing or repairing a roof is a major expense. Therefore, it is important for us to educate our customers on all the roof products and options available for your roof repair, maintenance or replacement. In addition, it is necessary for us to provide an accurate estimate for labor and materials. Hence, this is where our experience is paramount. Furthermore, our skilled roofing crews are trained to handle difficult problems on all types of roofs. From flat roofs to step sloped roofs. Also, our experienced work crews have the ability to recognize the most efficient way to install or repair your roof system. Finally, ensuring a solid roof for years to come.
Experience
Flat roofs (rubber membrane, tar and gravel roofs)
Shingle roofs
Copper roofs
Slate roofs
Clay tile roofs
Cedar roofs
Roof Memberships
Company
Find out more about Associate Roofing Contractors.
MA Contractor License
Bonded
Fully Insured Roofing Contractor
GAF Certified