Associate Roofing trade expertise is based on years of experience specializing in roof construction and maintenance. Our roof experience includes everything from flat commercial roofs to steep slopped residential roofs. Therefore, our experience encompasses all types of roofing materials from shingles to tar. In addition, one of the most important aspect of our roofing experience is the ability to accurately estimate the cost of a roofing job.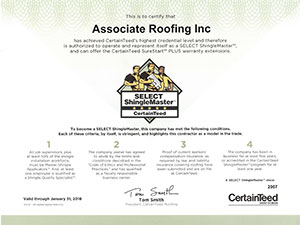 Associate Roofing, Inc. mission is to carry on Mike Lynch's heritage of professional roofing services, and to be around to back up the workmanship and warranties promised to our customers. Find out how Associate Roofing is continuously improving…
In-house safety meetings.
OSHA compliance requirements.
Employees are put through a checklist of training to meet Associate Roofing, Inc. standards.
Constant updates on roof materials, changes in the roofing industry, etc.
Periodic roof product manufacturers seminars to ensure the Associate Roofing team is up-to-date and proficient with the installation and use of roof products.
Our roof workers have all phases of roofing and sheet metal experience.
Our roof workers are career team employees and career trades people.
Employee benefits include health insurance and 401(k) retirement planning.
For your protection and ours, Associate Roofing carries some of the highest insurance protection in the industry.
Associate Roofing is MA Licensed, Bonded, Fully Insured Roofing Contractor, and GAF Certified.
Request a Free Online Quote or ask us a question.
We will get back to you as soon as possible.